Why CoolSculpting®?

Many people experience small areas of excess fat on the body that are difficult to get rid of through diet and exercise alone. Although liposuction is often an effective option for removal of fat deposits, there is an FDA-cleared alternative that involves no surgery or recovery time and is focused on smaller fatty areas. CoolSculpting® uses an innovative cooling technique that can reduce areas of excess fat without harming surrounding skin.
Dr. Paul M. Friedman and our dermatologists at Dermatology & Laser Surgery Center offer the CoolMini™ component of CoolSculpting® treatment. This advanced technique has been cleared by the FDA to treat submental fullness (excess fat under the chin), which offers our patients an alternative to liposuction or KYBELLA™ treatment to reduce the appearance of a "double chin." We are one of the first practices in the Houston area to offer this innovative treatment.
What Are the Benefits of CoolSculpting®?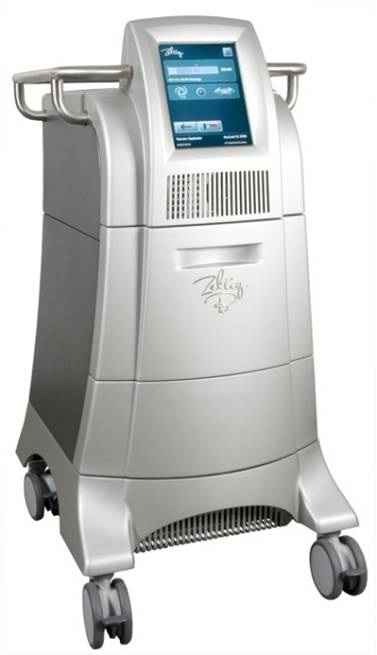 CoolSculpting® can be an excellent way of eliminating small areas of excess fat without the need for liposuction. Benefits of CoolSculpting® include:
Effective fat removal after only one treatment
No downtime after the procedure
No needles, anesthesia, or surgical incisions are necessary for treatment
FDA-cleared for treatment in the thighs, abdomen, flanks (love handles), bra strap areas, back, and under the buttocks
What is the CoolSculpting® Procedure?
CoolSculpting® utilizes a technique developed by dermatologists at Harvard called Cryolipolysis™. This technique cools excess fat cells in the area targeted for treatment. During the procedure, an applicator is placed over the target areas that cools the fat cells and allows for an inflammatory response to occur. The fat cells start to break down, and then are filtered out of the body through its natural processes over the next few months. The best results from CoolSculpting® are typically apparent after about two to four months.
How can the CoolMini™ procedure reduce the appearance of a double chin?
The CoolMini™ is an applicator designed for use with the CoolSculpting™ technology platform. This advanced technique can be utilized to reduce small areas of excess fat, and has shown to be particularly beneficial for diminishing the appearance of a double chin. The applicator's curved features make it ideal for the treatment of smaller areas of concern. In as little as one to two treatment sessions, the CoolMini™ procedure can reduce excess fat under the chin and create a more contoured profile. Since treatment with the CoolMini™ is based on the same technology as CoolSculpting®, there is typically no downtime required after the procedure.
What about recovery?
One of the chief benefits of CoolSculpting® is that there really is no recovery process. During the procedure, there may be a slight uncomfortable feeling once the cooling applicator contacts the skin, but this is often very brief. Some redness in the treated areas can be expected after CoolSculpting®; however, this should quickly fade. Most patients can resume normal daily routines right after treatment.
CoolSculpting® is a state-of-the-art device that is designed to remove smaller areas of excess fat without harming surrounding skin. It can be a very effective procedure for those looking to avoid surgery to attain their aesthetic enhancement goals.
CoolSculpting® FAQs
Click on the image below to download CoolSculpting® frequently asked questions. Contact our practice to learn whether or not the CoolSculpting® procedure is right for you.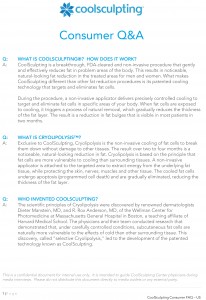 Schedule Your CoolSculpting® Consultation
Please contact Dermatology & Laser Surgery Center for more information, or to schedule a consultation for CoolSculpting®.