Scar Treatment with Fraxel Re:store® and Fraxel Re:pair® Laser Skin Resurfacing
"I found Dr. Friedman through realself.com after I had gone to a medi-spa to have a scar removed from a previous mole surgery. I received a laser treatment there, and it immediately blistered. It left a terrible scar and there was hyperpigmentation and redness. A few months after that, I went to several plastic surgeons and they told me I had to wait for the scar to mature, so that gave me plenty of time to research. I found Dr. Friedman and, being a laser specialist, he is the best at what he does. Over a year and-a-half, we have been doing Fraxel Re:store® (four treatments), and Fraxel Re:pair® (two treatments). After each treatment I could see an incredible difference. The Re:pair® treatments have just been wonderful, and I am just so thankful to have found him and for everything he has done for me. The staff is just as caring as he is. I would highly recommend him!"
Anita
Port Wine Stain Treatment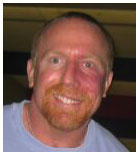 "As the Executive Director and Founder of Birthmarks.com, and more importantly, a person with a facial port wine stain, I have been treated by many doctors over the last 10 years for my birthmark. My criteria are quite demanding in regards to the doctor, the equipment, staff, and quality of the treatment, which is why I'm pleased to provide this testimonial for Dr. Friedman and his medical practice. "Superlative", "Caring", "Experienced" and "Professional" are terms that come to mind. Dr. Friedman has been my primary laser treatment doctor for over 4 years now and I see no reason for that to change. While I tend to put technical prowess ahead of personality, in Dr. Friedman's case no compromise is necessary. He and his staff are genuinely compassionate, warm, and accessible. I have seen great improvement in my birthmark while under his care. While everyone's results will vary, being in Dr. Friedman's capable hands provides me great peace-of-mind."
Most Sincerely,
MS
Acne Scar Treatment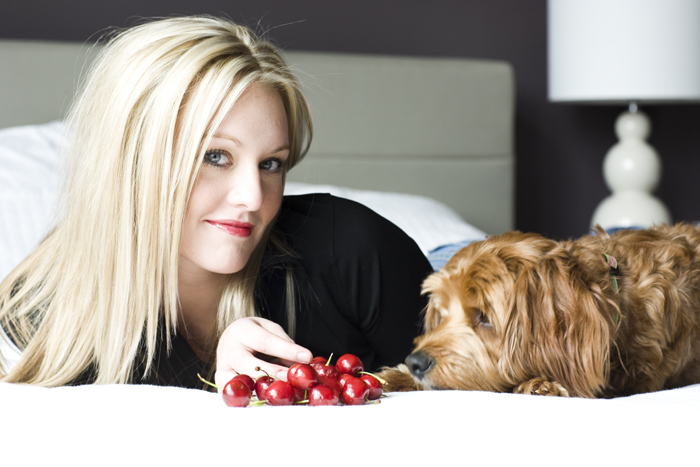 "I struggled with severe acne for 11 years that left me with physical and emotional scarring. I could NEVER walk out of the house without layers of makeup on my face. I tried all different types of creams, antibiotics, and even two rounds Acutane before my acne was mildly under control. I was fortunate enough to have an excellent (and very patient) Dermatologist that referred me over to Dr. Paul Friedman to see what could be done about my scars. I walked into Dr. Friedman's office in March of 2006 with my last ounce of hope. The staff was sympathetic and understanding and encouraged me to go through several treatments of the Fraxel laser. After only 2 treatments, the red pigment in my scars had disappeared! With extreme enthusiasm, I tossed out my expensive make-up and only held onto the bare essentials after my 4th treatment. Words cannot describe how thankful and appreciative I am to Dr. Friedman and his staff for helping me restore my confidence and self-esteem."
Ashley
Port Wine Stain Treatment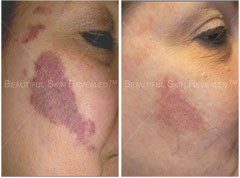 "I am a 63 year old female and, in February 2005, I first visited with Dr. Paul M. Friedman for laser treatments to remove several thickening dark Port Wine Birthmarks on my face. I have had these birthmarks on my face since birth: one very large birthmark down the right side of my face, one small birthmark under my nose, one small birthmark under my right eye and two small birthmarks near my temple. All my life I have worn very thick cover-up birthmark makeup to hide these marks.
Since 2005, I have undergone several laser treatments; which by the way, there is absolutely no pain involved in these treatments and no recuperating time. The small birthmark under my nose has completely disappeared; the small birthmark under my right eye has completely disappeared; the two small birthmarks near my temple are so light you can barely distinguish them; and the large birthmark on the right side of my face has diminished to such a small size, is so very light, and with no thickening, that with regular foundation makeup you cannot distinguish it. I am still having the treatments and am quite confident, in time the remaining birthmarks will be completely dissipated. It is, in deed, a miracle the results Dr. Friedman has obtained in removing and fading these birthmarks.
He is an excellent doctor working along with a very supportive and professional staff. If only I could have had these procedures done when I was a young child – what a difference it would have made in my life. Dr. Friedman, in my opinion, is the best."
Janice
Fraxel Treatment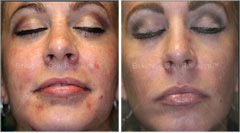 "Three years ago I did dermabrasion on my face. I was very disappointed with my results. My skin condition actually got worse. I was left with brown spots, scarring, and cysts. I went to multiple doctors and no one could offer me a solid solution. I spent thousands of dollars on bleaching creams, medications, products, and doctor's visits. I felt hopeless. One night I saw an old friend and her skin looked drastically improved. She told me she did a series of laser treatments with Dr. Friedman. The next morning I immediately called and made an appointment. When I went for my consultation I felt reassured by other patients in the waiting room. They all raved about the results that they had received. During my consultation Dr. Friedman addressed each issue that I had and recommended a short series of Smoothbeam and Fraxel treatments. I got good results from the Smoothbeam. I was initially apprehensive about the Fraxel treatment. Dr. Friedman told me it was the best laser he had ever used. He also told me that he had used it on his family members. His genuine enthusiasm for his work convinced me it was the right decision for me. I never could have anticipated the results that I have received. I never thought my condition could improve so much. My scars and brown spots have faded dramatically. My cysts have diminished. I strongly feel if I never discovered Dr. Friedman, I would have never found a solution. The Fraxel laser is the best thing I've ever done for my skin. The downtime is minimal and the results are astounding. It is abundantly clear with Dr. Friedman's proficient understanding of the skin and vast knowledge of lasers that a new standard will be set in the dermatologic community."
Jennifer
Sun Damage Treatment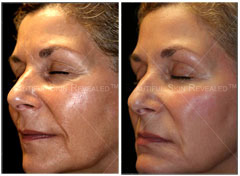 "After years of sun damage I hated looking in the mirror at the brown splotches and patches of redness on my face. I used creams, gels, ointments, had injections and peels, but the problems only exacerbated.
I was referred to Dr. Paul Friedman, a laser specialist, by a television medical producer who worked for the CBS affiliate in Houston and by other physicians, the highest compliment.
I found Dr. Friedman to be well trained, experienced, cautious, efficient, intelligent, caring, and always in a good mood. His staff is attentive, supportive, and professional.
When I consulted with Dr. Friedman, I told him I did not want to wear layers of makeup every day. I wanted my skin to be one color, beige, like it was when I was younger. He assured me that he could make the difference.
After four Fraxel and eight Vbeam Perfecta Laser treatments, the texture of my skin has dramatically improved. It is not only firmer, but it glows and the discoloration and blotchy red patches are almost completely faded. Instead of using liquid foundation I now simply apply powder with a brush, that's it. I feel so much lighter and liberated.
Regardless of where I am, the health club, shopping, or out with my husband, women stop me and ask whether my makeup was professionally applied, whether I model, or if I had a face lift and/or other work.
Needless to say, I am no longer unhappy with my appearance, but confident that I look fresh and beautiful day and night.
I highly recommend Dr. Paul Friedman without reservation."
Carole S., M.A.,
CCC–SLP, CALT
Laser Skin Treatment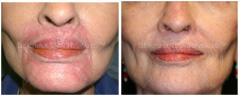 "In August, 2004 I made a terrible-almost fatal mistake. At age 73, I decided a facelift, browlift and perioral chemical peel would greatly enhance my appearance. I chose my plastic surgeon based upon the fact that he was close to my home, a critical error in judgment. He turned out to be not only uncaring, but inept. Everything that could have gone wrong did. I was allergic to the adhesive tape leaving 3rd degree burns, and later scars from my ears onto my cheeks. The chemical peel caused 2nd degree herpetic lesions on my upper lip and scar tissue all around my mouth creating deep striations. The only thing worse than my cosmetic result was the pain I was in day and night. I could barely open my mouth. I began to think I would have to deal with my poor decision for the rest of my life.
In 2005 I had to see a neurosurgeon about my back, but before he even examined me, he begged me to get a good dermatologist to treat my face. I knew a good dermatologist. At the tender age of 72 I had seen Dr. Friedman for some laser treatments and Botox and was very pleased with the results. To be perfectly honest I was embarrassed to return after making such a poor choice for my facial surgery. But I called and made an appointment.
Dr. Friedman believed he could reverse some of the damage my surgeon had done. It wasn't easy. For the first few treatments, his nurse had to force my mouth open so he could do a dental block to help with the pain. Once a month I had laser treatments and cortisone shots. Now, after one year I can say the results have been totally amazing. With a little makeup, the scars hardly show at all. Most importantly I feel I have been rescued from a nightmare. They say if you can't be a good example, be a terrible warning. Color me both. I enthusiastically tell my story so others spare themselves the pain associated with bad choices. With that behind me I am grateful to be celebrating these beautiful results."
Mary H
Port Wine Stain Birth Mark Treatment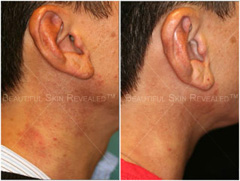 "Ever since I can remember I've had this "birth mark" on my neck and ear. When I was young all my doctors said it was nothing and that it would eventually go away on its own. It never did. Only until a couple of years ago did I learn that it's actually a vascular birthmark caused by dilated capillaries, something called naevus flammeus or
"port wine stain". It actually gets deeper in color as you age which is what I was only recently beginning to realize. My regular dermatologist referred me to Paul M. Friedman, M.D. and Dr. Paul Friedman for a relatively new laser treatment that was becoming available to treat this. Dr. Friedman did an assessment and began a regimented series of treatments for me. The laser treatments are quite short, lasting only 5 or 10 min and feels kind of like short zaps with a needle. Some people request a numbing rub which anesthetizes the skin but I've never used it because I found the first treatment so brief and the pain so insignificant (at least to me) that waiting 30 min or more to anesthetize for a treatment that only lasts 5 min seemed unnecessary. Once the treatment is done the area does become a little inflamed and resembles a bunch of mosquito bites (although not itchy). But it is visibly noticeable for at least a day or two. Placing a cool compress or ice on it for the first hour or so definitely helps. But after a couple of days you can't really notice. I usually get the treatment every 4-6 weeks and it's been almost a year now. It was very gradual for me since I look at my neck area on a daily basis but seeing pictures when I first started treatment and now is absolutely remarkable. The discoloration has gone down considerably and I would guess that 99% of the population would never know I even had a birth mark there anymore. I would highly recommend this treatment to anyone that has this condition, especially if it's in a sensitive area on our near the face that you really want to control or diminish the discoloration."
David
MOHS Treatment
"I recently discovered I had skin cancer on my leg and needed to have it removed. After discovering the Mohs Surgery technique, I decided that was best for me. I contacted two clinics in Houston that could perform this procedure. I e-mailed on Sunday and was contacted promptly at 8:30 A.M. the following Monday (to date, I have never received a call from the other clinic). The procedure was explained to me and an appointment was set up. I was most impressed with the response time to my initial inquiry and the response, via phone, the following morning. This has been my experience throughout the entire process.
When I arrived for the removal of the skin cancer, needless to say, I was somewhat apprehensive, as no one really looks forward to a painful procedure! Upon my arrival, everyone I encountered in the clinic was relaxed, professional and friendly. My worries subsided as I felt more and more comfortable and relaxed with the approach of each staff member I interacted with. This also continued throughout the entire time I was having the procedure done. Dr. Friedman was efficient, approachable and professional. I felt that Dr. Friedman was interested in performing the best procedure possible with my comfort level being constantly monitored, throughout the entire process. I can truly say from start to finish, I never experienced one minute of pain! I was amazed at the ease and handling of this procedure in the clinic and I am still impressed and grateful.
Let me conclude by saying the doctors and staff  are top rate! I would not hesitate one minute to go back in the future. I would highly recommend treatment  and cannot thank everyone there enough for the excellent treatment and follow-up I have received so far."
KT
Rosacea Treatment
"Dear Dr. Friedman,
The wedding was this weekend and I looked great! Everyone commented that I looked wonderful. I didn't explain that my rosacea was dramatically diminished, nor that you had removed those horrible oil gland hyperplasias, nor that I could now just wear normal make-up and not that much of that! These Smoothbeam and V-beam laser treatments have made a tremendous difference in my appearance. And it was non-invasive, hardly uncomfortable, and my recovery from the redness took only a few hours after each treatment. Could it be any better?? No.
I am tremendously glad that I learned about you from a friend who is your patient. These treatments and the wonderful results have given me a self confidence I haven't had for decades. And the burden of self consciousness I don't miss!"
Thank you for your caring and kind manner.
Sincerely,
JSG
Houston Patient Testimonial
"Thank you to Dr Friedman and staff. First let me say that through the years I have been around many doctors and their staffs and have honestly never experienced a group that is as friendly and helpful as the people I have been associated with at Dermatology & Laser Surgery Center. Each facet of my experiences all the way from you guys haggling with the insurance to Ida taking time out of her busy schedule today to print me up a map so I could find my way home is truly touching.
The one thing I can not express enough is how I feel when I enter that office. I really can't describe it. I don't get stares, which is what I am accustomed to getting. What I do get are beautiful, sincere smiles from each person that I have encountered there. There has not been one exception. You have no idea how that makes someone who is "different" like me feel. I can honestly say I am "comfortable" walking into the office which for me is normally an unknown feeling.
Thanks Dr Friedman for your concern and expertise, and thank you staff for making me feel like I'm just a normal person like everyone else…even if that feeling only lasts until I walk back out the door."
Sincerely,
JF
Radiation Dermatitis Patient
Name: SR
Age :50
Condition: Radiation Dermatitis; Scars on chest with mottling, brown speckles and increased blood vessels after radiation treatment for breast cancer
Recommended treatment: V-Beam laser and Fraxel Laser multiple treatments
Downtime: none; some bruising in the first week post treatment but it healed quickly
Story: Breast cancer is an emotionally devastating diagnosis especially for a young woman. One not only fears succumbing to the cancer but also worries about becoming physically handicapped as a result of the treatment. Reconstruction helps with cosmetic appearance, but it does not remove the radiation induced changes to the skin on the chest which continue to show in public (unless one wears a turtleneck). The laser therapy has helped me to have the freedom to wear whatever clothing I desire without the embarrassment which I previously suffered. I am very grateful.
*Individual Results May Vary