Here at Dermatology & Laser Surgery Center we offer a full line of medical grade and professional skin care products that can help you achieve healthier, smoother skin right from your own home. We offer only the most advanced products from skin care companies, available exclusively to physicians, that have been proven to be effective at rejuvenating the skin and reducing signs of age and skin damage.
Take a look at some of the products available at our practice, and contact us today for more information.
Avene®
Avene Thermal Spring Water is comprised of sterile spring water with a low mineral content and silicates with anti-inflammatory properties from the Avene Hydrotherapy Center in France, an organization that is recommended by top dermatologists around the world to help patients battle skin conditions such as psoriasis and atopic dermatitis. The Avene line includes a Post Procedure Recovery Kit and Tolerance Cream.
Clarisonic®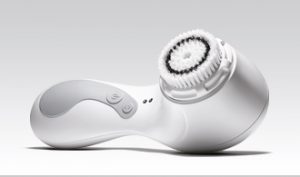 Clarisonic® is an at-home treatment that utilizes a gentle, oscillating brush to get rid of debris and dirt on the skin. With Clarisonic®, you can remove up to six times the daily accumulation of facial debris, including makeup, than can often be removed with manual facial cleansing, ultimately giving your skin a smoother and healthier appearance. The Clarisonic® line includes a Clarisonic® Pro Face and Body, Clarisonic® Mia 2 which is perfect for travel and we also carry replacement brush heads to for all skin types.
The Opal, a palm-sized sonic infusion device, is specially designed to help build skin's resilience over time and prevent future damage around the eyes. By gently tapping the skin around your eye at 125 sonic movements per second, the Opal dispenses your favorite eye creams and serums, maximizing absorption in a way that's not possible with your finger alone.
ColoreScience
ColoreScience is an innovative line of mineral makeup that offers sun protection and environmental defense against signs of aging. We are pleased to carry the Perfect Pout Skin Color Kit as well as the Sunforgettable line.
EltaMD®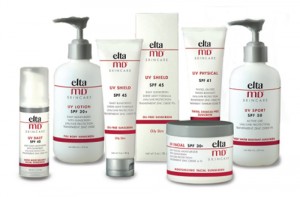 EltaMD® includes an innovative line of sun protection products that can be very helpful to those with sensitive skin and those with just about any skin type. Our practice offers a comprehensive line of EltaMD® products, including UV Clear, UV Daily, UV Spray, and much more.
Elure™
The Elure™ Skin Lightening product line contains an ingredient known as Melanoenzyme to even skin tone and pigmentation from skin conditions including blemishes, sun spots, and brown scarring.
SkinMedica®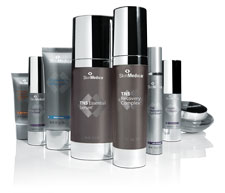 The SkinMedica® product line was developed by leading cosmetic dermatologists and is based on the principle of using a physiologic balance of growth factors to help you rejuvenate the skin and stimulate collagen production thereby diminishing the signs of aging. Products available at our practice include SkinMedica® Essential Serum, Recovery Complex, TNS Eye Repair, Purifying Foaming Cleanser, Sensitive Skin Cleanser and much more.
SkinCeuticals®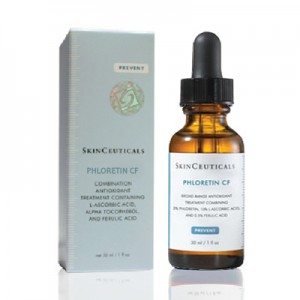 SkinCeuticals is an advanced skincare line that offers an extensive range of products to optimize your skin's health at every stage. Founded on the philosophy to prevent, protect, and correct, SkinCeuticals combines the benefits of natural botanical ingredients and scientifically advanced formulas to nourish and improve the skin from the inside out. Especially popular among the antioxidant products is Phloretin CF, which comes in gel or serum form. As a 2013 Allure Best of Beauty Award Winner, the Phloretin CF Serum can help improve the skin's overall appearance by reducing wrinkles and neutralizing environmental stressors that prematurely age skin.
skinbetter science®
Utilizing a genuinely scientific approach to developing effective skin care products, skinbetter science® includes advanced InterFuse™ technology to diminish signs of wrinkles and enhance volume in the face. skinbetter science™ solutions are able to use hyaluronic acid—a primary ingredient in popular dermal filler injectables such as JUVÉDERM® and Restylane®—to stimulate collagen and provide the skin with a smoother, firmer, and more youthful appearance. Our practice offers a vast selection of skinbetter science® products that can be helpful for a range of common concerns.
ALASTIN Skincare®
The innovative ALASTIN Skincare® system offers two lines of products designed to help individuals improve the condition and appearance of their skin. The Procedure Enhancement System line can prepare the skin for a cosmetic procedure while aiding the healing process and protecting the skin after the treatment. The second line of ALASTIN Skincare® products, Restore & Renew, is composed of creams that can be helpful for those who are looking for effective new options to include in their daily regimen. Restore & Renew offers solutions that can address signs of aging and work to prevent skin damage in the future. ALASTIN Skincare® utilizes TriHex Technology®, which involves a blend of peptides and other advanced ingredients that can eliminate damaged and aged proteins to give the skin a renewed and rejuvenated appearance. The product lines from ALASTIN Skincare® have shown to provide significant stimulation of elastin in the dermis, which can be a powerful tool to combat signs of age and produce a more youthful sheen. Dermatology & Laser Surgery Center offers a selection of products from ALASTIN Skincare® that can be ideal for many patients' needs and goals.