BOTOX® Cosmetic is a popular nonsurgical treatment option for wrinkles. Our experienced dermatologists offer BOTOX® Cosmetic injections to reduce signs of aging and revitalize your appearance. BOTOX® Cosmetic is often considered a "lunchtime" treatment since it typically takes no more than 15 minutes and most patients require no downtime.
Members of our dermatology team are extensively trained and experienced with this procedure. In fact, Dr. Paul Friedman is currently on the BOTOX® Cosmetic National Educational Faculty. Our customized BOTOX® Cosmetic treatment plans are designed to help you achieve your goals with results that look both beautiful and natural.
What is BOTOX® Cosmetic?
BOTOX® Cosmetic is an FDA-approved injectable treatment designed to temporarily diminish signs of facial aging. Common concerns that can be addressed with BOTOX® Cosmetic include:
Horizontal lines in the forehead
Creases between the eyes
Crow's feet
Frown lines
Neck laxity
Other wrinkles and creases caused by habitual muscle contraction
The BOTOX® Cosmetic solution is derived from botulinum toxin type A, an ingredient which can temporarily prevent muscles from contracting. BOTOX® Cosmetic treats dynamic wrinkles.
BOTOX® injections have been used by physicians since the 1980s for the treatment of patients with eye spasms, central nervous disorders, and some forms of excessive muscle contractions. In treating eye spasms, doctors noticed that BOTOX® also reduced wrinkles in the treated area, which led to the development and approval of BOTOX® Cosmetic. In 2002, the U.S Food and Drug Administration approved BOTOX® Cosmetic for use in the temporary reduction of facial wrinkles. Since that time, millions of BOTOX® injections have been performed. It has been shown to be effective at reducing fine lines on the forehead, around the eyes, and around the mouth. The full effect is typically seen one to two weeks after treatment, and the result typically lasts four to six months.*
How Does BOTOX® Cosmetic Work?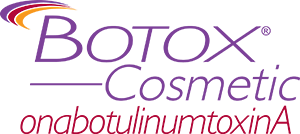 BOTOX® Cosmetic works by addressing the root causes of wrinkles and creases in a variety of facial areas. The many expressions we make over time – such as frowning, squinting, and smiling – eventually cause wrinkles to appear. The BOTOX® Cosmetic solution essentially relaxes these muscles and stops them from contracting (temporarily), which diminishes the appearance of the wrinkles and gives the skin a smoother look.
BOTOX® Cosmetic vs. Dysport®
Dysport® is another cosmetic injectable treatment that is derived from a diluted form of botulinum toxin, and is very similar to BOTOX® Cosmetic. Our experienced dermatologists can recommend which product (BOTOX® Cosmetic or Dysport®) would work best for you based on your skin characteristics and goals. Both injectables serve the same aesthetic purposes and offer similar results for most patients.
I began to see Dr. Friedman several years ago for Botox. Before going to see Dr Friedman, I had fine wrinkles on my forehead, 11 between my eyebrows, crows feet, and so on. Let's just say I was not very happy with my appearance. After seeing Dr Friedman and following all his recommendations my skin looks wonderful. Botox along with all his other recommendations have been a life changing experience. He along with his staff are very knowledgeable .

claudia dimas

May 06, 2016

12345
What is the BOTOX® Cosmetic Treatment Like?
A member of our dermatology team will talk with you about your goals during the initial consultation and determine whether BOTOX® Cosmetic is the best option for you. If so, we will create a customized treatment plan designed to provide wrinkle reduction with natural-looking results.
The BOTOX® Cosmetic procedure involves the careful, delicate injection of the solution into the areas targeted for treatment. Before the injections, a topical anesthetic can be applied in order to minimize discomfort. Depending on the extent of treatment and the number of injection sites, most BOTOX® Cosmetic procedures take about 15 minutes or less to complete. In fact, this is often considered a "lunch hour" procedure, as many individuals are able to undergo the treatment and get back to their normal daily routines immediately. The results of BOTOX® Cosmetic typically become most apparent a few days to weeks following the treatment.
What Are the Most Common BOTOX® Cosmetic Side Effects?
While most patients require no recovery time following the procedure, there are some common side effects of BOTOX® Cosmetic. Common side effects include temporary pain, swelling, bruising, and/or redness in the treatment areas. Patients are advised to contact our practice if any side effects linger for one week or more after treatment.
How Long Does BOTOX® Cosmetic Last?
The results of BOTOX® Cosmetic* typically last an average of about four to six months. Some individuals may even experience the effects for longer periods. Once the results of BOTOX® injections begin to fade, follow-up treatments can help to maintain results.
BOTOX® Injections for Axillary Hyperhidrosis
Axillary hyperhidrosis is a condition that causes extreme sweating in the armpits. Severe cases of axillary hyperhidrosis typically do not respond to deodorants, and often result in the inability to wear certain kinds of clothing because of staining. After your initial consultation, our team members can recommend a treatment plan that is best for you. BOTOX® can temporarily reduce sweating. Injections are typically performed every three to four months in order to maintain results.
*Individual Results May Vary