JUVÉDERM VOLLURETM XC was recently approved by the U.S Food and Drug Administration and is designed to correct moderate to severe wrinkles and nasolabial folds (lines between the nose and mouth.) JUVÉDERM VOLLURE™ is available from our board-certified dermatologists and can help provide you with a more youthful appearance without the need for invasive surgery.
What are the benefits of JUVÉDERM VOLLURETM XC
JUVÉDERM VOLLURETM XC is one of the latest products in the popular JUVÉDERM® line. This dermal filler is composed of hyaluronic acid, which is a natural substance in the human body that helps make the skin healthy. Some of the potential benefits of JUVÉDERM VOLLURE™ XC include:
Reduction in the appearance of moderate to severe wrinkles and facial folds
Minimal downtime
Results may last up to 18 months
JUVÉDERM VOLLURE™ XC is designed to provide natural-looking volumization that diminishes signs of wrinkles and gives the treatment area a smoother, more refreshed look.
The JUVÉDERM VOLLURETM XC Procedure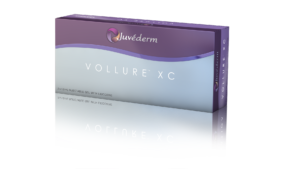 After our dermatologist has evaluated your needs and determines that JUVÉDERM VOLLURETM XC is an ideal procedure for your goals, he will create a customized treatment plan. The solution includes lidocaine, which is an anesthetic that can reduce any minor discomfort caused by the injections. The entire procedure can be performed in less than an hour.
Recovery
Some swelling and redness is expected around the injection sites; however, these effects should fade within a few days. Many patients experience immediately noticeable results. Occasional maintenance treatments can help sustain the desired results.
To learn more about how JUVÉDERM VOLLURETM XC can help you attain your cosmetic goals, or to schedule a consultation with our dermatologist, please contact Dermatology and Laser Surgery Center today at (713)900-3900.