Houston and New York Dermatologist Discusses CoolMini™ Non-Surgical Treatment for a Double Chin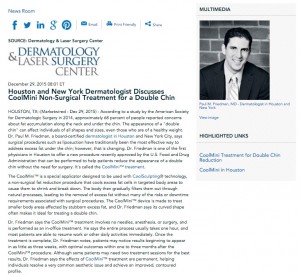 Houston, TX – According to a study by the American Society for Dermatologic Surgery in 2014, approximately 68 percent of people reported concerns about fat accumulation along the neck and under the chin. The appearance of a "double chin" can affect individuals of all shapes and sizes, even those who are of a healthy weight. Dr. Paul M. Friedman, a board-certified dermatologist in Houston and New York City, says surgical procedures such as liposuction have traditionally been the most effective way to address excess fat under the chin; however, that is changing. Dr. Friedman is one of the first physicians in Houston to offer a new procedure recently approved by the U.S. Food and Drug Administration that can be performed to help patients reduce the appearance of a double chin without the need for surgery. It's called the CoolMini™ treatment.
The CoolMini™ is a special applicator designed to be used with CoolSculpting® technology, a non-surgical fat reduction procedure that cools excess fat cells in targeted body areas to cause them to shrink and break down. The body then gradually filters them out through natural processes, leading to the removal of excess fat without many of the risks or downtime requirements associated with surgical procedures. The CoolMini™ device is made to treat smaller body areas affected by stubborn excess fat, and Dr. Friedman says its curved shape often makes it ideal for treating a double chin.  
Dr. Friedman says the CoolMini™ treatment involves no needles, anesthesia, or surgery, and is performed as an in-office treatment. He says the entire process usually takes one hour, and most patients are able to resume work or other daily activities immediately. Once the treatment is complete, Dr. Friedman notes, patients may notice results beginning to appear in as little as three weeks, with optimal outcomes within one to three months after the CoolMini™ procedure. Although some patients may need two treatment sessions for the best results, Dr. Friedman says the effects of CoolMini™ treatment are permanent, helping individuals resolve a very common aesthetic issue and achieve an improved, contoured profile.  
CoolMini™ treatment is the second major non-surgical technique to reduce excess fat under the chin that has recently been approved by the FDA. Dr. Friedman says the injectable procedure known as KYBELLA™ is also available at his practice, and offers patients yet another alternative to surgical intervention for a double chin. Although these treatments can often help patients who suffer from excess fat under the chin, Dr. Friedman cautions that they are not ideal for those who have loose, excess skin in the area rather than fat. However, he says, many individuals can benefit from the CoolMini™ treatment and achieve something that has remained elusive to millions of people for decades: reduction in the appearance of a double chin without the rigors, discomfort, and recovery time associated with surgery.  
About Paul M. Friedman, MD
Dr. Paul M. Friedman is a board-certified dermatologist and the Director of Dermatology & Laser Surgery Center in Houston, TX, and New York City, New York. Educated in dermatology at New York University School of Medicine, Dr. Friedman went on to train at the Laser & Skin Surgery Center of New York. At that institution, Dr. Friedman completed a one-year fellowship in MOHS micrographic surgery, dermatologic laser surgery, and cutaneous oncology. He serves as Clinical Assistant Professor of Dermatology at Weill Cornell Medical College, Houston Methodist Hospital and Clinical Assistant Professor in the Department of Dermatology at the University of Texas Medical School. He is the co-editor of "Laser & Light Source Treatments for the Skin," as well as the co-author of "Beautiful Skin Revealed: The Ultimate Guide to Better Skin." Dr. Friedman recently held the position of Co-Chair of the 2015 Annual Conference of the American Society for Laser Medicine & Surgery and has been honored with multiple awards for his work in dermatologic laser surgery. In addition to the CoolMini™ treatment, Dr. Friedman and dermatologist Elizabeth R. C. Geddes, MD offer a number of advanced laser and cosmetic skin surgery procedures. Dr. Friedman is available for interview upon request.
To learn more about Dr. Friedman and his practice, please visit dermlasersurgery.com and facebook.com/paulmfriedmanmd.
Contact:
Dermatology & Laser Surgery Center
Houston Office:
Memorial Hermann Medical Plaza
6400 Fannin St.
Ste. 2720
Houston, TX 77030
(713) 900-3900
New York Office:
317 E. 34th St.
11th Floor
New York City, NY 10016
(917) 745-5029
Rosemont Media
(858) 200-0044
www.rosemontmedia.com