At Dermatology & Laser Surgery Center in Houston, our board-certified dermatologists are dedicated to helping patients look and feel their best and we are excited to be among a select group of practices to offer the newest innovation in body contouring. CoolTone, from the makers of CoolSculpting, was FDA approved in 2019 to firm and tone the abdomen, buttocks, and thighs.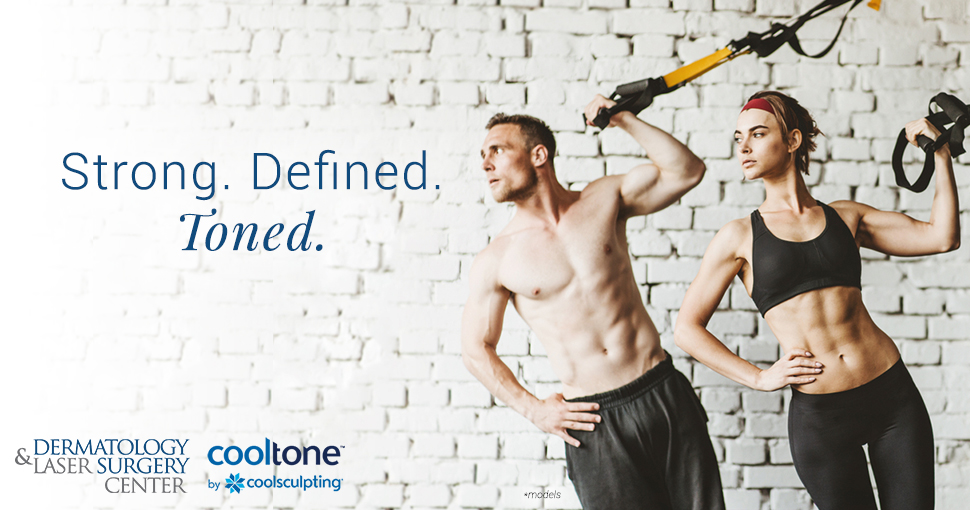 What is CoolTone?
CoolTone offers a solution for patients who would like a more toned physique and have not been able to achieve the results they want with exercise. CoolTone is a non-surgical body sculpting treatment that strengthens muscles at a rate that may not be possible with exercise alone.
How Does Body Sculpting with CoolTone Work?
CoolTone utilizes Magnetic Muscle Stimulation, or MMS technology, to target specific muscles. The CoolTone device penetrates through the skin to stimulate muscle contractions, which in turn strengthens muscle fibers. The result is muscle conditioning that helps the treated area appear firmer and more toned with improved muscle definition.
What Can I Expect From CoolTone Treatment?
CoolTone is an in-office treatment that many patients refer to as a "lunchtime procedure" because it takes just 30 minutes, is typically painless, and requires no downtime. While the needs of each patient will be carefully evaluated, the general recommended CoolTone treatment plan is two procedures per week for two weeks.
What Areas Can Be Treated With CoolTone?
CoolTone can be used to treat the abdomen, buttocks, and thighs – areas that can be difficult to build muscle definition with exercise alone.
How is CoolTone different from CoolSculpting?
CoolSculpting utilizes Cryolipolysis™ to effectively reduce fat, but it does not improve muscle tone. CoolTone is able to target the underlying muscles. The doctors at Dermatology & Laser Surgery Center are experienced in CoolSculpting, which is popular for reducing the appearance of stubborn fat on the abdomen, love handles, back, arms, and buttocks.
Multidimensional Body Contouring with CoolSculpting and CoolTone
Patients who are candidates for both CoolSculpting and CoolTone may choose to have both procedures for comprehensive body contouring without surgery. With CoolSculpting and CoolTone combined, we can freeze fat and build muscle.
Get CoolTone in Houston
Dr. Paul Friedman and the team at Dermatology & Laser Surgery Center can help you determine if CoolTone is the right procedure to help you reach your goals. Contact us with any questions or to schedule a consultation appointment.