Treatment for a "Bulbous" Nose: Houston and New York City Dermatologist Discusses Fraxel Re:pair® Laser Procedures for Rhinophyma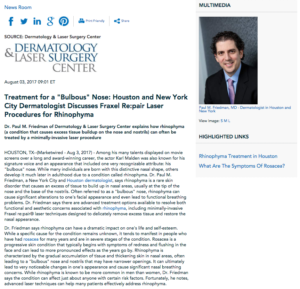 Dr. Paul M. Friedman of Dermatology & Laser Surgery Center explains how rhinophyma (a condition that causes excess tissue buildup on the nose and nostrils) can often be treated by a minimally-invasive laser procedure.
Houston, TX – Among his many talents displayed on movie screens over a long and award-winning career, the actor Karl Malden was also known for his signature voice and an appearance that included one very recognizable attribute: his "bulbous" nose. While many individuals are born with this distinctive nasal shape, others develop it much later in adulthood due to a condition called rhinophyma. Dr. Paul M. Friedman, a New York City and Houston dermatologist, says rhinophyma is a rare skin disorder that causes an excess of tissue to build up in nasal areas, usually at the tip of the nose and the base of the nostrils. Often referred to as a "bulbous" nose, rhinophyma can cause significant alterations to one's facial appearance and even lead to functional breathing problems. Dr. Friedman says there are advanced treatment options available to resolve both functional and aesthetic concerns associated with rhinophyma, including minimally-invasive Fraxel re:pair® laser techniques designed to delicately remove excess tissue and restore the nasal appearance.
Dr. Friedman says rhinophyma can have a dramatic impact on one's life and self-esteem. While a specific cause for the condition remains unknown, it tends to manifest in people who have had rosacea for many years and are in severe stages of the condition. Rosacea is a progressive skin condition that typically begins with symptoms of redness and flushing in the face and can lead to more pronounced effects as the years go by. Rhinophyma is characterized by the gradual accumulation of tissue and thickening skin in nasal areas, often leading to a "bulbous" nose and nostrils that may have narrower openings. It can ultimately lead to very noticeable changes in one's appearance and cause significant nasal breathing concerns. While rhinophyma is known to be more common in men than women, Dr. Friedman says the condition can affect just about anyone with certain risk factors. Fortunately, he notes, advanced laser techniques can help many patients effectively address rhinophyma.
To treat rhinophyma, Dr. Friedman often utilizes the Fraxel re:pair® laser system. He notes that this CO2 laser procedure can precisely remove layers of thickened skin on the nose, with the goal of getting it back to its original size and shape as much as possible. Dr. Friedman says the laser can treat smaller areas of skin at a time, which allows him to perform the procedure in a very precise way that can minimize discomfort and reduce the time needed for recovery when compared to major surgery or some other types of fully ablative laser treatments. Dr. Friedman says the Fraxel re:pair® technique may necessitate multiple treatments to achieve optimal results; however, he has been able to achieve very good outcomes while providing patients with a treatment that does not involve many of the drawbacks associated with other procedures.
Dr. Friedman says, while rhinophyma is not a common disorder, it can have a major impact on the lives of those who suffer from it. He says those who may be experiencing the symptoms of rhinophyma should be sure to see an experienced, qualified dermatologist to see if laser treatment may be the right option for their unique needs.
About Paul M. Friedman, MD
Dr. Paul M. Friedman is the Director of Dermatology & Laser Surgery Center in Houston, TX. He also practices in New York City, NY. Dr. Friedman is certified by the American Board of Dermatology. He is a Clinical Assistant Professor in the Department of Dermatology at the University of Texas Medical School and serves as Clinical Assistant Professor of Dermatology at Weill Cornell Medical College, Houston Methodist Hospital. Dr. Friedman has been awarded two Husik Prizes for his research in dermatologic surgery. He has published more than 75 medical articles and book chapters, and he is a co-author of Beautiful Skin Revealed: The Ultimate Guide to Better Skin. Dr. Friedman is also the co-editor of the textbook Laser & Light Source Treatments for the Skin. In addition to treatment for rhinophyma, Dr. Friedman and his practice offer a comprehensive selection of dermatology treatments for both medical and cosmetic conditions. Options include laser procedures, cosmetic injectables, Moh's micrographic surgery for skin cancer, and many other treatments. Dr. Friedman is available for interview upon request.
To learn more about Dr. Friedman and his practice, please visit dermlasersurgery.com and facebook.com/paulmfriedmanmd.
Contact:
Dermatology & Laser Surgery Center
Houston Office:
Memorial Hermann Medical Plaza
6400 Fannin St.
Ste. 2720
Houston, TX 77030
(713) 900-3900
New York Office:
317 E. 34th St.
11th Floor
New York City, NY 10016
(917) 745-5029
Rosemont Media
(858) 200-0044
www.rosemontmedia.com