Treat Aging Proactively: Houston and New York Dermatologist Explains Benefits of the Clear + Brilliant® Laser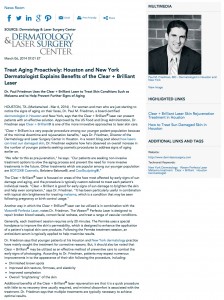 Dr. Paul Friedman uses the Clear + Brilliant® Laser to treat skin conditions such as melasma and to help prevent further signs of aging.
Houston, TX – For women and men who are just starting to notice the signs of aging on their faces, Dr. Paul M. Friedman, a board-certified dermatologist in Houston and New York, says that the Clear + Brilliant® laser can present patients with an effective solution. Approved by the US Food and Drug Administration, Dr. Friedman says Clear + Brilliant® is one of the more innovative approaches to laser skin care.
"Clear + Brilliant is a very popular procedure among our younger patient population because of the minimal downtime and rejuvenation benefits," says Dr. Friedman, Director of the Dermatology and Laser Surgery Center in Houston. In a recent blog post about how lasers can treat sun damaged skin, Dr. Friedman explains how he's observed an overall increase in the number of younger patients seeking cosmetic procedures to address signs of aging earlier on.
"We refer to this as pre-juvenation," he says. "Our patients are seeking non-invasive treatment options to slow the aging process and prevent the need for more invasive treatments in the future. Other treatments which are popular among our younger population are BOTOX® Cosmetic, Belotero Balance®, and CoolSculpting®."
The Clear + Brilliant® laser is focused on areas of the face most affected by early signs of sun damage and aging, and the procedure is typically custom-tailored to treat each patient's individual needs. "Clear + Brilliant is good for early signs of sun damage to brighten the skin and help even complexion," says Dr. Friedman. "It has been particularly useful in combination with topical skin brighteners for treating melasma, which is a condition that may be seen following pregnancy or birth control usage."
Another way in which the Clear + Brilliant® laser can be utilized is in combination with the Vbeam® Perfecta Laser, notes Dr. Friedman. The Vbeam® Perfecta Laser is designed to repair broken blood vessels, correct facial redness, and treat a range of vascular conditions.
Generally, each treatment session requires only 20 minutes. The Perméa uses a special handpiece to improve the skin's permeability, which is designed to enhance the application of a patient's topical skin care products. Following the Perméa treatment session, an antioxidant serum is typically applied to help maximize results.
Dr. Friedman says that younger patients at his Houston and New York dermatology practice have mainly sought the treatment for corrective reasons. But, it should also be noted that Clear + Brilliant® may be utilized as an effective method of preventive care to combat the early signs of photoaging. According to Dr. Friedman, patients may expect numerous improvements in to the appearance of their skin following the procedure, including:
Diminished brown spots
Improved skin texture, firmness, and elasticity
Improved complexion
Overall "brightening" of the skin
Additional benefits of the Clear + Brilliant® laser rejuvenation are that it is a quick procedure with little to no recovery time usually required, and minimal discomfort is associated with the treatment. Dr. Friedman says that multiple treatments are typically necessary to achieve optimal results.
About Paul M. Friedman, MD
Dr. Paul M. Friedman, is the Director of Dermatology & Laser Surgery Center of Houston, Texas and practices at the Laser & Skin Surgery Center of New York. He earned his degree in dermatology from the New York University School of Medicine, and is board-certified by the American Board of Dermatology. At New York University's School of Medicine, Dr. Friedman served as chief resident and was twice awarded the prestigious Husik Prize for his research in dermatologic surgery. Dr. Friedman is extensively trained in the treatment of Mohs micrographic surgery for skin cancer. He serves as a Clinical Assistant Professor at the University of Texas Medical School, Department of Dermatology, and as a Clinical Assistant Professor of Dermatology at Weill Cornell Medical College, The Methodist Hospital. Dr. Friedman is also the co-author of "Beautiful Skin Revealed: The Ultimate Guide to Better Skin." Dr. Friedman is available for interview upon request.
This practice can be reached online at dermlasersurgery.com and facebook.com/paulmfriedmanmd.
Contact:
Dermatology & Laser Surgery Center
Houston Office
Memorial Hermann Medical Plaza
6400 Fannin Street #2720
Houston, TX 77030
(713) 900-3900
New York Office
317 E. 34th St.
New York City, NY 10016
(917) 745-5029
Rosemont Media
tom@rosemontmedia.com
(858) 200-0044
www.rosemontmedia.com