Here at Dermatology & Laser Surgery Center we offer a full line of medical grade and professional skin care products that can help you achieve healthier, smoother skin right from your own home. We offer only the most advanced products from skin care companies, available exclusively to physicians, that have been proven to be effective at rejuvenating the skin and reducing signs of age and skin damage.
Take a look at some of the products available at our practice, and contact us today for more information.
Avene
Avene Thermal Spring Water is comprised of sterile spring water with a low mineral content and silicates with anti-inflammatory properties from the Avene Hydrotherapy Center in France, an organization that is recommended by top dermatologists around the world to help patients battle skin conditions such as psoriasis and atopic dermatitis. The Avene line includes a Post Procedure Recovery Kit, Tolerance Cream, and a tinted Mineral Sun Care SPF 50 compact.
Clarisonic®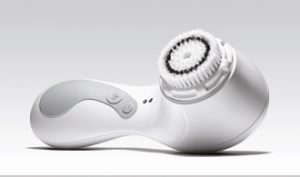 Clarisonic® is an at-home treatment that utilizes a gentle, oscillating brush to get rid of debris and dirt on the skin. With Clarisonic®, you can remove up to six times the daily accumulation of facial debris, including makeup, than can often be removed with manual facial cleansing, ultimately giving your skin a smoother and healthier appearance. The Clarisonic® line includes a Clarisonic® Pro Face and Body, Clarisonic® Mia 2 which is perfect for travel and we also carry replacement brush heads to for all skin types.
The Opal, a palm-sized sonic infusion device, is specially designed to help build skin's resilience over time and prevent future damage around the eyes. By gently tapping the skin around your eye at 125 sonic movements per second, the Opal dispenses your favorite eye creams and serums, maximizing absorption in a way that's not possible with your finger alone.
ColoreScience
ColoreScience is an innovative line of mineral makeup that offers sun protection and environmental defense against signs of aging. We are pleased to carry the Perfect Pout Skin Color Kit as well as the Sunforgettable line.
CytoAcitve®
CytoActive® is a Bruise Relief product that can minimize signs of bruising that can occur from cosmetic procedures like injectable treatments. This can help reduce the need for concealers and help you show off your new appearance without having to wait for signs of bruising to subside.
EltaMD™


EltaMD™ includes an innovative line of sun protection products that can be very helpful to those with sensitive skin and those with just about any skin type. Our practice offers a comprehensive line of EltaMD™ products, including UV Clear, UV Daily, UV Spray, and much more.
Elure™
The Elure™ Skin Lightening product line contains an ingredient known as Melanoenzyme to even skin tone and pigmentation from skin conditions including blemishes, sun spots, and brown scarring.
Glytone
Glytone products are designed to help rejuvenate areas of skin affected by damage, acne, and signs of age. Glytone is composed of high concentrations of Alpha Hydroxy Acid and other properties that can work to effectively renew the skin.
Obagi®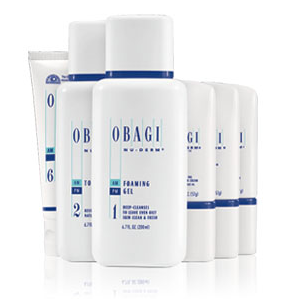 The Obagi® Skin Rejuvenation System is one of the most popular professional skin care products in the U.S., prescribed by a large number of dermatologists. The many products from Obagi® are designed to help the skin replenish its natural elastin and collagen with the goal of reducing wrinkles, improving color and pigmentation, and giving the skin a healthier sheen. Our Obagi® products include the Foaming Gel, Gentle Cleanser, Toner, ClearFx, BlendFx, and more.
SkinMedica™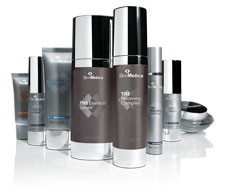 The SkinMedica™ product line was developed by leading cosmetic dermatologists and is based on the principle of using a physiologic balance of growth factors to help you rejuvenate the skin and stimulate collagen production thereby diminishing the signs of aging. Products available at our practice include SkinMedica™ Essential Serum, Recovery Complex, TNS Eye Repair, Purifying Foaming Cleanser, Sensitive Skin Cleanser and much more.
Contact Dermatology & Laser Surgery Center
Please contact the Dermatology & Laser Surgery Center for more information on skin care products available at our practice. We will be happy to answer your questions!