Page Updated:
Sebacia Acne Treatment
The board-certified dermatologists at Dermatology & Laser Surgery Center are excited to be among the first in Houston to offer Sebacia, an innovative and clinically proven laser treatment for acne.
While sometimes dismissed as a common teen concern, acne also affects adults in their 20's through middle age and can be physically painful and psychologically distressing. Topical treatments, such as over-the-counter creams, are not always effective and early treatment is important to minimize permanent scarring. Sebacia is a breakthrough in skin therapy for patients with acne.
How Does Sebacia Work?
Sebacia targets the root cause of acne, which is excessive production of sebum (oily secretion) that clogs pores and allows bacteria to proliferate. It utilizes tiny gold microparticles in a special formula that penetrates deep into pores. A laser is used to apply low heat to the gold microparticles which target the sebaceous glands in order to inhibit oil production and reduce the size and number of acne lesions.
There are four steps in the Sebacia treatment:
Skin is cleaned with a mild cleanser
Sebacia gold microparticles are massaged into skin
Skin is cooled
Laser treatment is used to gently heat the microparticles
The typical recommended Sebacia treatment plan includes 3 visits over a 2 week period.
Sebacia Results
Clinical results show an average improvement of approximately 65% at 3 months, 74% improvement at 6 months, and 85% improvement at one year.1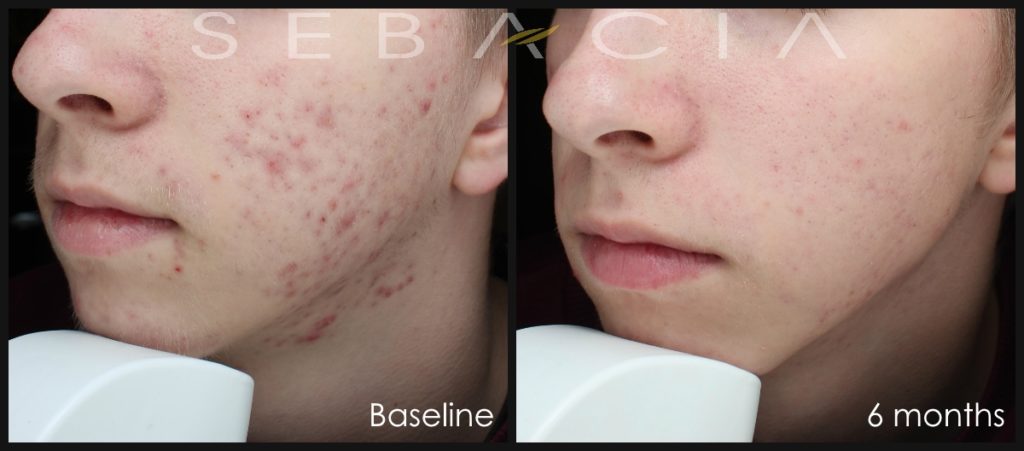 Benefits of Sebacia
Treats the underlying cause of acne
Non-invasive
No down time needed, resume regular activities the same day
May be an option for patients who do not respond to topical treatments or cannot tolerate medication.
Am I a Candidate for Sebacia?
Sebacia is appropriate for adolescents and adults with mild to moderate acne. The best way to determine if Sebacia is right for you is to schedule an appointment with one of our experienced dermatologists.
Get Sebacia Acne Treatment in Houston
At the Dermatology & Laser Surgery Center, we offer a range of treatments for acne and other skin conditions. Contact us with any questions about Sebacia or to schedule a consultation appointment.
1 Haedersdal, et al. IMCAS 2019; data on file at Sebacia; January 2019