Dr. Paul M. Friedman Interviewed by New York Times about Laser Tattoo Removal
Posted: Mar | 29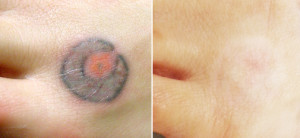 A recent article by Courtney Rubin in the New York Times' Fashion & Style section features an interview with Dr. Paul M. Friedman, the director of our dermatology and laser surgery practice. The article, called "Tattoo Removal Takes Tiny Steps Forward," tells the story of Carly Cardellino, the Senior Beauty Editor at Cosmopolitan magazine. Ms. Cardellino had made a number of attempts to get rid of a tattoo without any luck – until she sought treatment from Dr. Friedman.
With the use of an advanced laser called the Picosure™, Dr. Friedman was able to successfully remove signs of the tattoo on Ms. Cardellino's skin. The Picosure™ was the first aesthetic laser in the world to administer bursts of laser energy in picoseconds (one trillionth of a second). This makes it possible to significantly reduce treatment time while removing deep-set tattoo ink. The Picosure™ is designed to effectively break up a range of different ink colors and reduce the tattoo's appearance on the skin without damaging the surrounding tissues.
The NYT article also discusses a number of important issues when it comes to tattoo removal, including reasons why an experienced doctor should perform these types of procedures. Dr. Friedman is very pleased to have helped Ms. Cardellino and to have been able to offer his insight on one of the most advanced technologies available for tattoo removal.
Click the following links to learn more about the picosecond laser and other tattoo removal options, and check out the full New York Times article here.
Contact Our Practice