What are Acne Scars, Why Do They Occur?
*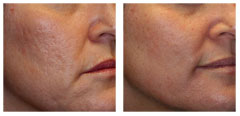 Acne scars form wherever acne advances to the point of injuring tissue. These injuries lead to depressions or indentations that occur from the skin's natural healing process. These scars contain reduced amounts of collagen, have irregularly structured dermal fibers and usually lack elasticity. Successful treatment of a scar requires both the removal of damaged epidermal tissue and the stimulation of new collagen to improve tone and texture.
Acne scarring has been difficult to treat with even the most aggressive traditional approaches – topical agents, abrasion therapies, surgery and conventional lasers – either achieving only moderate results, or else destroying unacceptable amounts of healthy tissue along with the scar. This has been a major disappointment to patients who must carry the stigma of adolescent acne long after their skin is free of active acne.
Effective Acne Scarring Treatments
A monumental breakthrough came recently when the FDA cleared Fraxel® Laser Treatment for acne scarring after studies showed that the new laser could be far more effective than traditional therapies at gently repairing epidermal abnormalities and reaching deep into the dermis to induce collagen formation without compromising patient safety.
Fraxel® Laser acne scar treatment, with its gentle non-ablative skin rejuvenation and rapid healing time, is now available to people of all skin types for the treatment of acne scarring.
"In our practice, we have treated hundreds of acne scarring patients with the Fraxel® Laser, and we've seen significant improvements on all areas of the face, particularly the cheeks and temple area."
Other Acne Scarring Treatments Include:
Schedule Your Consultation
If you suffer from acne scars, there is help available to you. One of our doctors at the Dermatology & Laser Surgery Center will evaluate your condition and then determine which treatment plan would best treat your individual needs. Please contact our office today to schedule your initial consultation.
*Individual Results May Vary