The CO2RE Intima laser treatment for vaginal rejuvenation is an innovative, non-surgical option that can help many women who wish to improve their intimate wellness and enhance confidence in their appearance. Although it's not often discussed, the fact is that the effects of childbirth and the natural process of aging can have a pronounced impact on both the function and appearance of vaginal tissues. These concerns can often cause women to feel self-conscious or uncomfortable while being intimate with their partners, and experience a number of unpleasant functional and aesthetic effects. Fortunately, at Dermatology and Laser Surgery Center, our dermatology experts offer women a simple, non-surgical option to address these issues and feel better about their feminine health.
What are the benefits of CO2RE Intima laser therapy for vaginal rejuvenation?
The CO2RE Intima laser procedure is designed for women who would like to improve signs of aging and childbearing in the vaginal area. Over time, tissues of the vaginal wall can become stretched, ultimately losing both elasticity and tone. Pigmentary changes can also occur in these areas, as well as reduced vaginal lubrication and general discomfort. The CO2RE Intima laser can address these concerns and provide a number of potential benefits. These include:
Renewed and restored vaginal shape, flexibility, and tone
Relief from dryness and itching
Enhancement of sexual function, leading to an improved sexual experience
Cosmetic improvement in the vaginal area
Improved confidence about feminine health
Quick, non-surgical treatment
Fast results
Most patients experience little to no discomfort during the procedure
Minimal downtime
Our experts will meet with you for an initial consultation to talk with you about your goals. We are here to answer all of your questions about the CO2RE Intima laser treatment and help you determine whether this is the best option for your needs.
What does the procedure involve?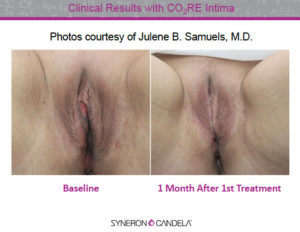 CO2 laser techniques are often considered the gold standard for tissue rejuvenation, and the CO2RE Intima laser is no exception. This procedure is designed to treat both external vulva areas in addition to internal vaginal areas, allowing us to address a wider range of concerns. During treatment, a handheld laser device will be gently guided over the targeted areas of tissue. The controlled CO2 laser energy can stimulate a healing response, causing the growth of new natural collagen in the tissues, as well as enhancing the level of moisture and ultimately serving to improve the look, tone, and texture of the area.
This treatment can be performed in-office and typically does not require anesthesia. The procedure usually takes only about 30 minutes to complete. While many patients see improvement after the initial CO2RE Intima treatment, a series of three treatments is often recommended for the best possible results. Annual maintenance treatments are suggested to sustain results.
What about recovery?
For most patients, the recovery process is minimal. Some temporary swelling and redness can be expected in the treatment area; however, this should fade over the next few days. Most individuals can resume work and other normal daily activities immediately after the procedure.
If you would like to learn more about vaginal rejuvenation with the CO2RE Intima laser procedure, we will be happy to answer any questions you may have. Please contact Dermatology & Laser Surgery Center today for more information, or to schedule a consultation.