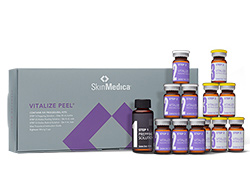 We are pleased to offer our patients chemical peels by SkinMedica®. Along with SkinMedica®'s very popular line of skin care products, the company has developed a number of chemical peel treatments that can help you significantly improve the look and health of your skin.
SkinMedica®'s options include:
Vitalize® Peel
Intended to address mild to moderate skin imperfections, the Vitalize® peel can help smooth the appearance of fine lines and wrinkles while improving the skin's texture. This peel can be an excellent option for patients who have acne-prone skin, sun damage, or melasma. The most popular of the SkinMedica® peels, this treatment helps restore smoothness and gives skin a youthful glow.
Rejuvenize® Peel
The Rejuvenize® peel is the strongest of the SkinMedica® peels and provides a deep level rejuvenation to help achieve firmer, clearer, and younger-looking skin. This treatment is best suited for skin requiring significant correction, whether from sun damage, pigmentation irregularities, and/or acne scarring. Despite the vigor of this treatment, the peel is specifically formulated with an anti-irritant and penetration enhancer to ensure effective end results without causing skin irritation.
Contact the Dermatology & Laser Surgery Center
If you are interested in receiving chemical peels to improve skin texture and color, contact one of our doctors at the Dermatology & Laser Surgery Center in Houston, Texas today to schedule your consultation.