Dr. Paul Friedman and Dr. Elizabeth Geddes Voted Top Docs in H-Texas Magazine!
Posted: Jun | 11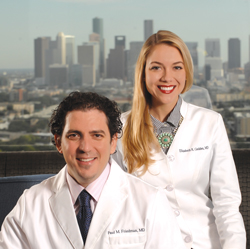 The entire team at Dermatology & Laser Surgery Center is excited to announce that Dr. Paul M. Friedman and Dr. Elizabeth R. Geddes have been recognized as 2015 Top Docs in H-Texas Magazine!
Dr. Friedman has made this exclusive list for several consecutive years, and Dr. Geddes is very pleased to make her debut.
Each year, H-Texas Magazine asks readers to vote on the "Best of…" in a host of categories. Once the votes are tallied, the magazine prints both the results and also the biographies of the winners. This helps people in the Houston area identify the best providers of care, according to the respondents .
Dr. Friedman and Dr. Geddes are proud to be identified by H-Texas Magazine as being among the best physicians and leaders in Houston. They say they will continue to do all that's possible to ensure every person who walks through our doors is given exceptional care, and results that meet or exceed their expectations.
If you would like to schedule a consultation with one of our experienced dermatologists, please contact us today.
Contact Our Practice