Dr. Friedman Announces Release of New Book: Lasers & Light Source Treatments for the Skin
Posted: Jun | 25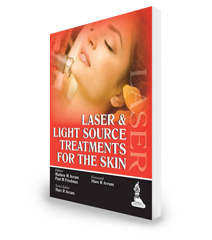 Debuting just a few years after his previous publication — the consumer-friendly beauty guide Beautiful Skin Revealed™: The Ultimate Guide to Better Skin — Dr. Paul Friedman proudly announces his latest book release,Lasers & Light Source Treatments for the Skin. Primarily an overview of laser technology for use in dermatological procedures, Lasers & Light… provides compelling insight into the practical applications of lasers and other energy-based devices such as radiofrequency, intense pulsed light, ultrasound, and cryolipolysis for medical professionals at all levels of achievement.
The book details how a range of common conditions, including acne scars, spider veins, and signs of aging can be alleviated with the latest laser techniques. A handy guide that features over 125 photos, illustrations, and tables, this latest literary effort co-edited by Dr. Friedman and published by Jaypee Brothers Medical Publishers will no doubt prove an indispensable tool for cosmetic surgeons, dermatologists, and trainees.
Delve deeper into the world of laser skin treatments by visiting our Devices and Procedures page, or schedule a consultation with Dr. Friedman today.
Contact Our Practice