Dr. Paul M. Friedman Co-Chairs 35th Annual ASLMS Conference
Posted: May | 20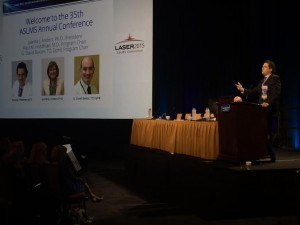 As a leader in the field of dermatologic laser surgery, Dr. Paul M. Friedman is proud to have recently served as Co-Chair of Laser 2015, the 35th Annual Conference for the American Society for Laser Medicine & Surgery (ASLMS). Presented this year in Kissimmee, Florida, the conference is known as the premier international symposium gathering professionals from an array of disciplines to learn and share information on the medical application of lasers and energy-based devices. Dermatologists and physicians from a range of medical fields, as well as researchers, students, and others offering services to the healthcare industry, came together to discuss new technologies and techniques designed to reduce signs of aging and successfully combat common skin conditions experienced by individuals of all skin types and ages. Dr. Friedman helped oversee a six-day event packed with educational lectures and workshops revealing some of the latest breakthrough treatments for birthmarks, melasma, pigmented and vascular lesions, scars, tattoos, cellulite, body contouring, and other skin conditions.
Dr. Friedman was able to share the podium with pioneers in laser and energy-based medicine, giving six lectures about laser techniques he has developed. He says he and other members of the planning committee reviewed approximately 400 abstracts that had been submitted for the conference, which included cutting edge research that was ultimately presented and discussed.
Some of the highlights of the conference included presentations on non-ablative and ablative fractional lasers and their potential to provide significant skin rejuvenation, as well as effective scar reduction. Patients of color were also a focal point of the conference, as more lasers are being designed with wavelengths that are safer and more effective on a broad range of skin tones and types. Focus was also given to the evolving area of laser-assisted drug delivery as well as lasers for the pediatric population.
In addition to specific treatments for the face and skin, the conference also took a closer look at the technology, providing thorough evaluations and instructional courses in the latest laser equipment during the "Tech Connect Session," in which lasers such as Dye, KTP, and Alexandrite were compared and contrasted. This unique session reviewed the most appropriate laser for the individual and the condition with safer, more reliable results.
The ASLMS is the largest scientific organization in the world specifically devoted to promoting education, research, and high-quality care for medical procedures involving laser technology. Dr. Friedman is very proud to have been asked to serve as Program Co-Chair for Laser 2015, which has helped him continue to provide leadership and guidance to medical professionals from across the globe as they navigate the new and exciting treatments available for patients now and in the years ahead.
For more information, or if you would like to schedule a consultation here at Dermatology & Laser Surgery Center, please contact us today.
Contact Our Practice