Dr. Geddes Receives Research and Innovation Award at ASLMS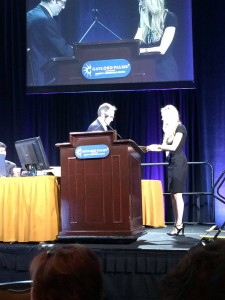 Dr. Elizabeth Geddes has recently been recognized for her contributions to the field of laser medicine and surgery.
Dr. Paul Friedman and the entire team at Dermatology & Laser Surgery Center are proud to announce that Dr. Geddes received the 2015 "Dr. Richard E. Fitzpatrick Clinical Research and Innovations Award" from the American Society for Laser Medicine & Surgery (ASLMS). This award is bestowed upon the physician who has demonstrated the best clinical presentation at the annual ASLMS national conference. Each year, applicants go through a rigorous selection process, and the Annual Conference Program Committee determines the winner.
Dr. Geddes' awarded presentation at the conference, for which Dr. Friedman was a co-author, involved laser treatment for increased vascularity in skin lesions of melasma. Melasma is one of many conditions – including fine lines and wrinkles, acne, and others – that can often be treated with laser technology here at our practice.
For more information about Dr. Geddes, or if you would like to schedule a consultation with one of our skilled dermatologists, please contact our office today.