Dr. Paul M. Friedman Receives the Leon Goldman Memorial Award from the American Society for Laser Medicine & Surgery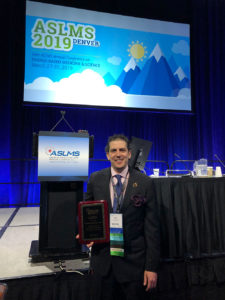 Our board-certified dermatologist and the Director of Dermatology & Laser Surgery Center, Dr. Paul M. Friedman, was recently honored with the prestigious Leon Goldman Memorial Award! This distinctive recognition is given annually by the American Society for Laser Medicine & Surgery to a practicing physician who has demonstrated long-term excellence in patient care, research, or education relating to the field of medical laser treatments. Leon Goldman, MD is known as the "Father of Laser Medicine," and the award is given to a physician who meets the above criteria in addition to exhibiting the dedication, ethical standards, and honesty known to have been espoused by Dr. Goldman himself.
Dr. Friedman was invited to present a lecture while accepting the Award on March 29, 2019 at the ASLMS Annual Conference in Denver. During the presentation, Dr. Friedman shared a number of stories about how lasers have allowed him to change the lives of many individuals. Some of these cases involved early intervention with laser treatments for children born with prominent vascular or pigmented birthmarks that could potentially cause significant self-consciousness during childhood.

In addition, Dr. Friedman spoke of the many tattoo removal cases for which he has volunteered his services, such as those that have helped cancer survivors remove radiation tattoos, as well as cases involving ex-gang members in rehabilitation who need to remove visible tattoos that may be impeding their ability to successfully re-enter society. Dr. Friedman also recounted his partnership with Elijah Rising, a Houston organization working to end the scourge of sex trafficking. Dr. Friedman's work with Elijah Rising has enabled him to utilize his expertise with laser technology to help victims of sex trafficking who have been branded with "ownership" tattoos. Free laser tattoo removal treatments through Elijah Rising have helped these survivors remove the shameful reminders and aid in the long recovery process.


Dr. Friedman presenting at the 2019 ASLMS Conference in Denver, Colorado.
Ultimately, Dr. Friedman says the Leon Goldman Award was an incredible honor:
"Dr. Goldman pioneered the use of lasers to help others. I sought out ways to use my expertise to help those without typical healthcare access. Lasers have enabled me to change lives, which has been incredibly fulfilling."
For more information about Dr. Friedman or the many treatments available at our practice, please contact us today.