Paul M. Friedman, M.D., board-certified by the American Board of Dermatology, is co-author of Beautiful Skin Revealed™: The Ultimate Guide to Better Skin. Dr. Friedman received his medical degree with highest honors from the University of Tennessee Health Science Center, College of Medicine. There he received the Alpha Omega Alpha Medical Honor Society Distinguished Graduate Award and the National Institute of Health Research Fellowship Grant. He completed his internship in internal medicine at Barnes Jewish Hospital of the Washington University School of Medicine in St. Louis. Dr. Friedman finished his training in dermatology at the New York School of Medicine, one of the nation's top dermatology residency program, where he served as Chief Resident and was twice awarded the prestigious Husik Prize for his research in dermatologic surgery. He went on to complete a one-year fellowship in Mohs micrographic surgery for the treatment of skin cancer and dermatologic laser surgery at the Laser & Skin Surgery Center of New York under the direction of Roy G. Geronemus, MD, an internationally recognized leader in the field. During his fellowship, Dr. Friedman was the recipient of the Young Investigator's Writing Competition Award of The American Society for Dermatologic Surgery. -Texas Medical Center.
Currently, Dr. Friedman is the director of Dermatology & Laser Surgery Center in Houston and also has a practice in New York. He serves as a clinical assistant professor at the University of Texas Medical School, Department of Dermatology, and a clinical assistant professor of Dermatology at Weill Cornell Medical College, The Methodist Hospital. He is also on staff at Texas Children's Hospital and Memorial-Hermann Hospital. He has served as Chair of the Public Service Committee of the American Society of Dermatologic Surgery.
Dr. Friedman has been a featured speaker of the American Academy of Dermatology, the American Society for Dermatologic Surgery, the American Society for Laser Medicine and Surgery, and other national and international societies.
Click Here to Read Dr. Friedman's Curriculum Vitae
Learn more about Laser Skin Surgery, Dr. Friedman's New York location.
Paul M. Friedman, MD in The Media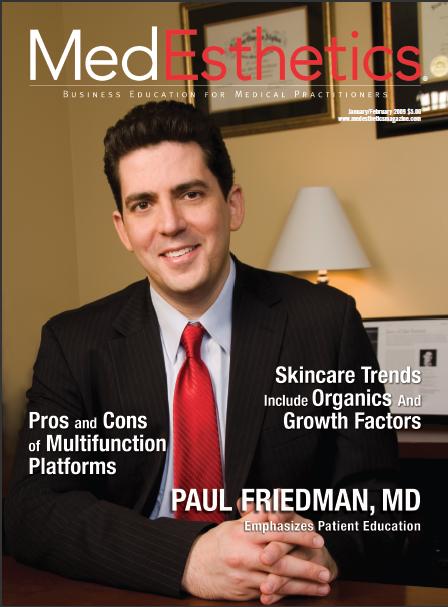 Dr. Friedman has authored and co-authored over 60 peer-reviewed medical articles and book chapters. Dr. Friedman has been featured in several magazines and periodicals, such as the New York Times, Houston Chronicle, Harper's Bazaar, New Beauty, Good Housekeeping, Family Circle and Prevention Magazine. He has also been featured in over 30 news programs on the Fox, ABC, CBS, and NBC networks. As a leading researcher and physician in the field of dermatology, Dr. Friedman has been recognized by H Texas Magazine as one of Houston's Top Doctors and has been selected for inclusion in Who's Who in America.
Dr. Friedman has been involved in the development of several new dermatological laser systems and techniques that are now commonly used around the world and he continues to be involved in the development of leading-edge technology to help find better solutions for today's most common skin conditions.
Dr. Friedman has recently completed Beautiful Skin Revealed™: The Ultimate Guide to Better Skin, a must-have beauty resource to help readers separate help from hype concerning a variety of common skin conditions. The book was released in July 2010 and Dr. Friedman is the first physician to have a book published by New Beauty Magazine's Sandow Media Corporation.